Your phone is ringing and you don't know who is calling?
tellows provides information to identify trustworthy or potential risk calls - thanks to our worldwide community.
tellows - find out who called with the phone number reverse search & caller protection
Community
Find details about reported phone numbers from over 7 million monthly users in 50 countries and participate by becoming a part of tellows community.
Member Area
Edit ratings, create your own blacklist and discover more features by becoming a tellows registered user for free.
Home
The landline solutions for your home and company are available in the tellows shop.
Business
The tellows API offers a variety of solutions. Be our business partner and get access to our database.
6817258
Ratings from community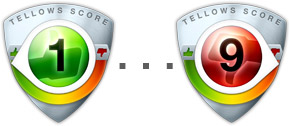 We categorise calls by type (debt collection, serious number, sweepstakes, etc.) and give the number in question a tellows score, which indicates whether a number is trustworthy or suspicious, helping you to decide whether or not to take the call.
---
---
We've all had to deal with the same thing. Your phone is ringing and the display shows an unknown number you haven't seen before. So you're asking yourself whether to answer it or not!? Who is calling? You are certainly not the first one to ask these questions. For this reason, tellows developed a database which will help you with your decision about answering or ignoring the phone call. This will definitely save you time and energy. Yet, there is more to it. In addition to a risk rating, tellows provides an approximate location of the number calling. This helps you to find out the origin of the phone call. For additional information visit our Tellows Blog.


On tellows, thousands of phone numbers are reported by the community every day. Here you can find phone numbers that were reported for the first time and were classified as unwanted.
Where does the information on telephone numbers come from?
The tellows community allows you to comment any telephone number. We analyze and classify the calls according to the type of call. The core of tellows is the so-called tellows score. A thought-out algorithm that classifies any number in relation to its risk level. This in turn makes it easier for you to decide whether it is safe to answer the call or not. In order to gather as much information as possible about all the numbers in question, we need your help! With the help of your comments about the numbers and your risk rating you certainly help us to enrich our phone number database.


Often searched companies
Skill Perfection in am sande 37

Horse trailer dealer

Islamabad Marriott Hotel in Aga Khan Road

Hotel

Four Points by Sheraton Lahore in Egerton Road 25

Hotel

Karachi Marriott Hotel in Abdullah Haroon Road 9

Hotel

TAG Heuer in Johar Town Emporium Mall

Watch store

TAG Heuer in Dolmen Mall Clifton Sea View

Watch store

TAG Heuer in Safa Mall Jinnah Super F-7

Watch store

Yousaf in P502

Shopping mall

Regus - Lahore, Askari in Main Boulevard 75 / 76 d-1

Office space rental agency

Ilman in Gulbahar 3

Foreign languages program school